Japanese manufacturers always win accolades for providing high-quality equipment in every industry. It is almost expected of a nation known for its technological genius. It's no wonder why Juki sewing machine models are often top of their class. They have proved their skillfulness in the sewing and tapestry landscape too. Let's consider the example of Juki: the leading global manufacturer of industrial sewing machines that also caters to hobbyist and residential consumers.
In a Hurry? Here are Our Top Choices
The company has been operating out of three manufacturing plants in Japan, China and Vietnam and supplying its products to six continents in over 160 countries through its state-of-the-art logistic setup. In this piece, we are going to review some of the best Juki sewing machine models for different user bases.
Whether you are a hobbyist or a professional seamstress, you can find the right Juki sewing machine for your use from the below-reviewed models.
Why Choose a Juki?
Juki has been making sewing machines for large-scale stitching and tapestry work for more than 70 years. People who have used Juki sewing machines admire them for their exemplary price-performance ratio. Be it's personal or commercial use, by buying Juki sewing machines you can be certain that you have made the right investment.
The Best Juki Sewing Machines
We are going to review several Juki sewing machines here by putting down their beneficial features and shortcomings.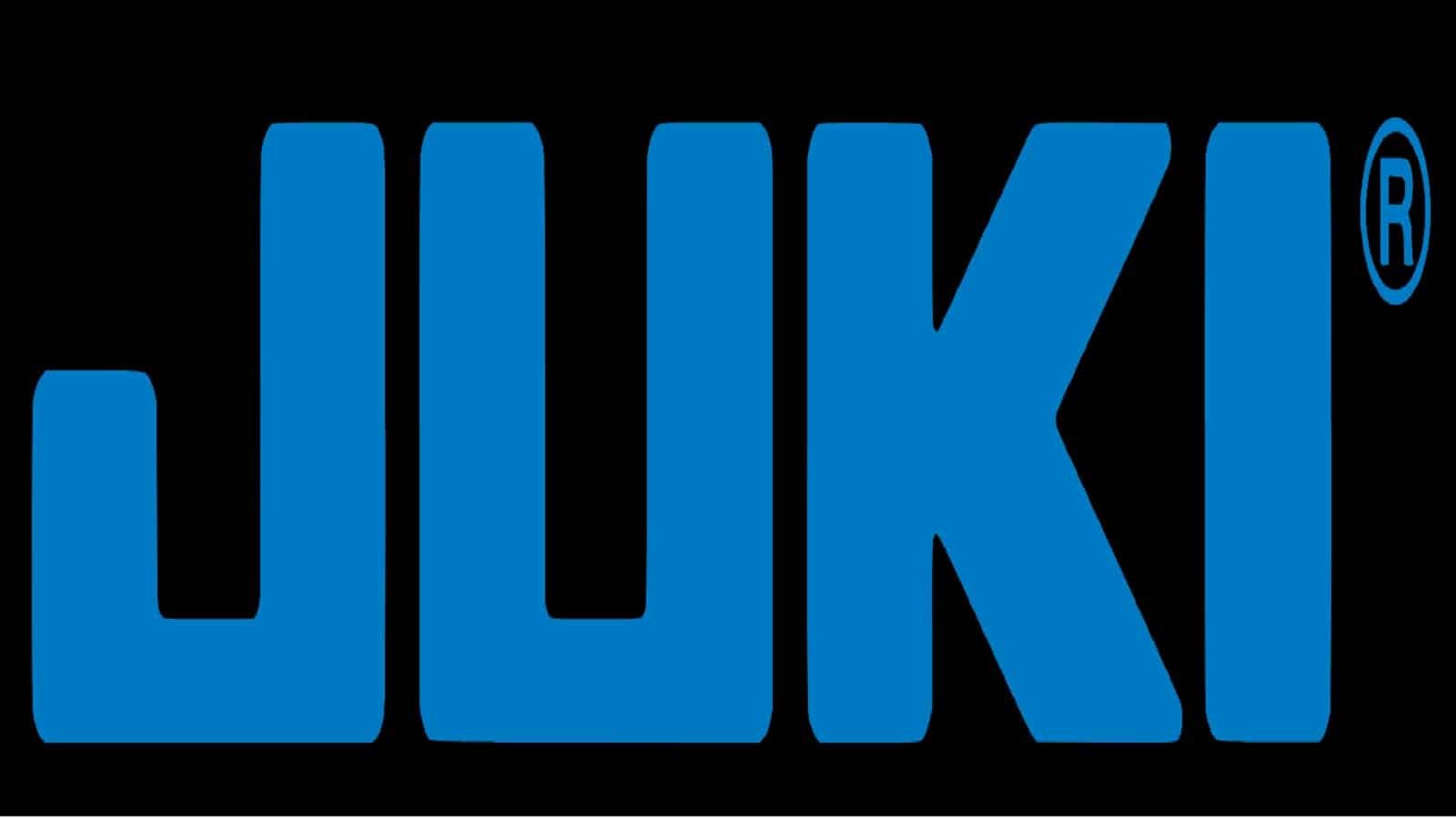 Juki TL-2000Qi
If you are looking for a machine that is equally good for both home and industrial space, then you should not search beyond Juki TL-2000Qi. The machine is ideal for both quilting and simple stitching and offers fast sewing speed. The use of aluminum cast makes Juki TL-2000Qi a lightweight and portable option.
The Pros
The machine gives the exceptional stitching speed of 1500 spm. The speed is perfect for extensive sewing and quilting projects.
You can get on with stitching within seconds with the machine's automatic needle threader.
The machine has the aluminum cast body and bedding, ensuring that the sewing operation remains low-vibration.
Juki TL-2000Q comes with an extension table to provide a wide working area for quilting projects.
A quilting foot is also part of the stock option. By using the quilting foot, you can easily hem every fabric regardless of its thickness.
The led-lit working area makes sure that you don't have to strain your eyes while working on intricate tapestry projects.
The Cons
The machine only offers a single straight stitch. Users who have to work on a variety of projects will consider it as a limitation.
Bobbin thread is not jam-proof.
The absence of free-arm setting is also a problem for people who find it difficult to stitch cuffs and collars on regular sewing platforms.
Juki TL-2000Qi is a semi-industrial sewing machine. Its rich functional aspects make it one of the best Juki sewing machines on the block. This further proves by its reputation on Amazon. Juki TL-2000Qi enjoys a very good rating on the platform. The machine also enjoys the classification of 'Amazon's Choice', a tag exclusive to highly-rated and well-priced goods on Amazon.
Juki HZL-DX7
Juki HZL-DX7 is an all-around sewing and quilting machine that comes with so many features that it is not going to get out-of-date any time soon. The machine is a high-end Juki product that offers various automatic functions. For instance, it provides automatic needle up/down movement. The automatic thread cutters and presser feet movement also makes the machine for quick and hassle-free sewing.
The Pros
Juki HZL-DX7 offers sewing speed of 1075 spm, making it an ideal pick for both business and home-based projects.
The machine comes with 287 built-in stitches that can be selected from an easy-to-read panel. Every embroidery and tapestry project can be covered with this wide assortment of stitches.
Juki HZL-DX7 is one of those few sewing machines where you can also adjust the speed of reverse stitch. This feature comes in really handy to secure the extended and layered seams.
Nine different presser feet come with a stock Juki HZL-DX7 besides the standard foot. This includes one for each: zipper, overcasting, blind stitch, buttonhole, and quilts. Users also get special 'walking foot', which provides an extra set of feed dogs for difficult fabric types. A patchwork foot is also part of the package. Smooth presser foot and edge sewing foot are also part of a standard Juki HZL-DX7 model.
The Cons
The machine doesn't have a large working area.
The hefty price tag of Juki HZL-DX7 might make it an unaffordable option for some users.
Juki HZL-DX7 is an ideal pick for sewing works that need high-quality finishes. The machine can provide good ROI to small and medium-scale sewing and tapestry ventures. The machine has a good rating on Amazon, which shows that it is well liked by the users.
Juki HZL-F600
Juki HZL-F600 is a computerized sturdy sewing machine primarily made for commercial users. It is considered to be one of the best Juki sewing machines for quilting, embroidery and monogramming tasks. The machine comes with the array of over 250 stitches that includes all regular, decorative and alphanumeric varieties.
The Pros
HZL-F600 has Juki's ingenious box feed system in which the feed dog moves rectangularly in contrast to the conventional oval motion. This improvement rules out the possibility of fabric shifting and shrinking during the stitching.
Juki HZL-F600 comes with a built-in array of 255 stitches, making it easier to see through every sewing project without any hassle.
Juki has taken care of user's need for large working space in HZL-F600. The machine comes with an extended sewing table, which is four times bigger than a regular workspace.
The options of automatic needle threading and reverse stitching cuts down the overall sewing time.
The box feed technology also provides free-motion sewing, which is needed in many quilting and embroidery projects.
The Cons
Some users might find it hard to adapt to its computerized controls.
Bobbins are not jam-proof and could result in abrupt stoppages.
Juki HZL-F600 is a durable sewing machine ideal for quilting and decorative sewing. With all those diverse features, the price of HZL-F600 is remarkably reasonable. Juki HZL-F600 is one of the highest-rated machines on Amazon. It enjoys a whopping excellent rating on the platform.
Juki DDL-8700
Juki DDL-8700 is an industrial sewing machine designed to work on medium and light fabrics. It's a single needle and straight stitch apparatus that gives impressive results for bulk sewing orders. The stock DDL-8700 comes with all the accessories required to set up a sewing workstation. The price of Juki DDL-8700 is also reasonable for an industrial sewing machine.
The Pros
Juki DDL-8700 offers a phenomenal sewing speed. The whopping 5,500 spm of DDL-8700 is more than any other machine from the same category.
Industrial machines are often noisier and operate on high-vibration. Juki has taken care of these shortcomings in DDL-8700.  The machine is fitted with servo meter that ensures noise-free and low-vibration operations, providing a workspace free of noise pollution.
Juki DDL-8700 offers jam-free sewing. This feature helps in making the most of impressive sewing speed of the machine.
The Cons
Juki DDL-8700 operates on a 100-V power supply, making it an exclusive product for the US market only.
It doesn't provide good stitching results on thick heavy fabrics such as leather and corduroy.
The Juki DDL-8700 is perfect for large commercial sewing facilities. Its quite-servo motor operation also makes it a good choice for home-based ventures. The extended operating life of Juki DDL-8700 makes sure that the users can get some good ROI value. The machine has a good rating on Amazon.
Juki MO654DE
Juki MO654DE is one of the best serger sewing machines on the block for both commercial and home users. Juki MO654DE is lightweight and portable, thus can be adjusted in every workspace. The machine comes with color-coded thread breakaway system to fix right stitch length and for differential feed.
The Pros
The machine provides exemplary sewing speed of 1,500 spm, making it ideal for commercial undertakings.
Juki MO654DE's built-in presser feet can work on nearly every type of fabric material. You can also feed thin plastic and elastic under the regular Juki MO654DE feet. Besides that, different feet options are also part of the package that takes care of blind stitch, gathering, cording, and piping.
The machine can thread serging on three different settings along with the capability of automatically rolled hemming.
The micro-safety switch locks the machine when its side cover is open to rule out any incident.
The Cons
The machine's compact size might not be ideal to deal with serging of large fabric pieces.
The open threads on the top of the machine can all tangle up.
Some users might also consider Juki MO654DE a bit overpriced option for the features it offers.
Juki MO654DE is one of the best Juki sewing machines designed for serging and overlocking. It can provide the right platform to seamstresses who are foraying into more diverse sewing and tapestry. The machine has a very good rating on Amazon, which shows that it is quite popular among users who need a serger sewing machine.
Juki TL-2010Q
If you are looking for a sewing machine that can offer fast-speed straight stitching, then Juki TL-2010Q is a custom-made model for you. The machine is a semi-industrial sewing machine that can be used for light to heavy fabrics. A seasoned seamstress can use it for quilting and embroidery work as well.
The Pros
The machine provides adjustable sewing speed that can be set anywhere between 200 and 1500 spm, making it perfect for every type of tapestry work.
The machine comes with a table extension to provide wide working space for large fabric pieces.
Juki TL-2010Q also comes with adjustable foot pressure. Users can also raise the presser foot to up to 12mm. These features come in really handy when users have to work on thick fabric material.
The machine is fitted with automatic threader and electronic regulator for it's up/down motion, making the sewing more hassle-free.
The Cons
There are no absolute shortcomings of Juki TL-2010Q. However, some users might point out that it's heavier than the same models from other manufacturers. Besides that, the absence of free-arm setting might also bother some beginner dressmakers.
Juki TL-2010Q is a perfect mix of reliability and speed. Whether it's fabric as light as chiffon or as heavy as denim, the machine can seamlessly work on every material. The extra durability of the machine makes it a worthwhile option in its relatively hefty price tag. TL-2010Q enjoys an excellent rating on Amazon, which clearly suggests that it is one of the best Juki sewing machines on the e-commerce platform.
Juki HZL-F300
HZL-F300 is another computerized sewing machine from Juki that is considered one their best offering for tapestry and quilting purposes. The machine comes in compact assembly and provides quick adjustable sewing making it suitable for every stitching work. The wide extension table is also part of the stock option. This means you can also set up a commercial working space with them as well.
The Pros
Juki HZL-F300 offers more than 100 stitches that include alphabets in three different fonts, making it an ideal option for monogramming purposes. The large variety of stitches also helps in crafting any type of embroidery piece.
There are 16 built-in buttonhole designs that come with a standard Juki HZL-F300. This feature comes in really handy to fulfill clients' brief in commercial sewing projects.
The box feed system ensures shrink-free and free-motion stitching.
The automatic needle threading and trimming streamline the sewing operation.
The Cons
Old-school seamstresses and tailors might find it difficult to set their hands on the computerized control of Juki HZL-F300.
Some users might find Juki HZL-F300 a bit expensive.
Juki offers a limited warranty on HZL-F300.
Overall, Juki HZL-F300 is fairly a good deal in its price tag. It's an ideal machine for all those hobbyists who want to test the professional side of the things. The machine has a good rating on Amazon.
Our Final Thoughts
All the above-reviewed machines are all available on Amazon. Choose the one that matches your functional requirements and the budget. They're all great Juki sewing machines!