Quilting is the art of sewing multiple layers of materials in a design pattern that creates a thicker and warmer fabric. Quilts are generally divided into three layers. There is a top layer that usually consists of a well designed soft fabric. The wadding in the middle that is usually made up of fibrous material such as cotton wool formed into a fleece-like layer. The bottom layer, also known as the backing, is made with very soft cotton fabric and usually plain in design. Having one of the best quilting sewing machines can make the job much easier.
In a Hurry? Here are Our Top Choices
In this blog post, we will cover the process of quilting, talk about stitching styles and techniques and then discuss some of the popular quilting sewing machines available in the market.
Stitching Styles for Quilting
Different stitching styles are used to put the quilt layers together. The most commonly used style is a single-line running stitch. This stitch style is popular because of its ease of application, decorative option, and functionality. However, it is not the most durable stitch style and prone to breaking when put under pressure.
Another style that can be used is a double line zigzag pattern. It is more durable but offers less decorative options.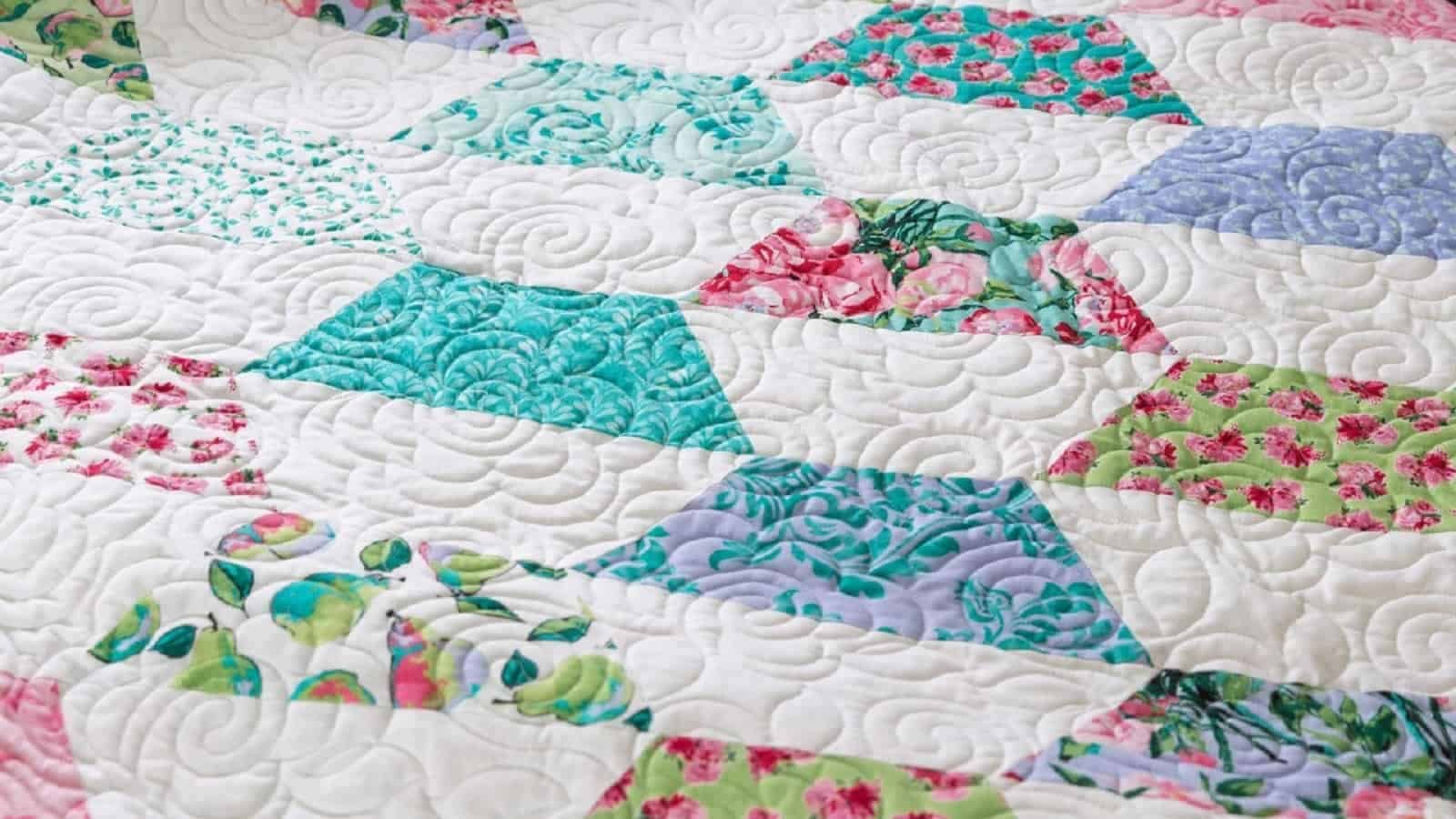 There are two main ways to make a quilt. You can do it by hand or with the help of a quilting sewing machine.
In hand quilting, a stab stitch style is used where the quilter pushes the needle through the fabric to one side and then pulls it back from the opposite side to secure the stitch.
In machine quilting, this process is carried out by the machine's needle where the top and backing are pinned together on a flat surface and sown together across the surface. The quilter can choose the stitch style that they want.
Quilting also involves a variety of other techniques. The top can be made up using patchwork patterns of different color material. You can add embroidery to the top to make it more beautiful. You can also add a binding to the corners which adds durability and design style.
The Process of Quilting
You can make a quilt at home with relative ease. The process used to take many days with hand quilting, but machine quilting has made the process much easier and faster. The following steps are involved in making a quilt.
1. Gather Necessary Supplies
You will need the following materials.
Soft designed fabric for the quilt top. Alternatively, you can use different colored fabric if you are looking to create a patch-work kind of quilt top.
The fabric for the backing under the quilt.
Soft cotton or wool-based material for the wadding.
A coordinating material that can be used to create the binding.
A quilting sewing machine.
Thread and scissors.
2. Prepare the Fabric
This step involves cutting the fabric according to the design requirements. If you are using a single sheet for the top then cut it according to length and width requirement. If you are using patches, cut them accordingly. The backing is also cut to match size.
3. Sew the Quilt Top Together
Creating the quilt top can be a very simple or complicated process depending on the design style that you are going for. You can sew them together is blocky, single line or crosses based on your needs.
4. Quilt Basting
Basting is the process of temporarily holding the three layers of the quilt together to assess what the final design will look like and make stitching easier. Many quilters use curved safety pins to hold the layers together.
At this stage, you may also want to mark the stitching lines that you will run on the quilt to sew it together.
5. Stitch the Quilt
Stitching involves running the quilt through the sewing machine with the stitch- style that you want. Quilting will permanently hold the quilt top, wadding and the backing together.
Most people stick to the stitch lines they draw earlier to keep thing orderly. However, you may come up with a better design idea during stitching and decide to run additional patterns on the quilt.
6. Binding the Quilt
Once you are done with the stitching, the last process is to bind the quilt together. The binding material is usually made with a fabric similar in design to the quilt-top as the matching gives the quilt a natural look.
Binding is a two-step process. The first step is to prepare the binding. This requires cutting, shaping and stitching the binding to make it easier to sew to the quilt. The second step is to stitch the binding to the quilt on both sides.
Quilting Techniques
There are a variety of quilting techniques that can improve your work significantly. There are hundreds of such techniques, but we will outline 4 great techniques here.
Block and Patchwork Techniques involve sewing and putting together strips, block-cut fabrics, and other shapes to create patchworks.
The Applique technique is used to decorate the quilt-top with a design pattern.
The Paper Piecing technique lets you stitch fabric in geometric shapes such as hexagons and octagons etc. It can be used for stitching together quilts and pillows.
Trapunto quilting is a delicate quilting technique in which padding is stuffed inside each stitched design, creating separate dimensions of padding. It is more complex and fine than the other techniques.
The 8 Best Quilting Sewing Machines
Designing and making a quilt at home is not a very difficult process if you use the right quilting sewing machine. There are a variety of specialized sewing machines and sergers in the market that can be used to create professional-quality quilts in a matter of days.
With more than 2 dozen sewing machine manufacturers in the market, customers can get confused about picking the right sewing machine. We are covering eight popular and effective quilting sewing machines below, selected from the best brands in the market.
Singer Heavy Duty 4423 Sewing Machine
When making beautiful and customized quilts, you don't want to be constrained by the stitching style selection. The Singer 4423 is the best solution when it comes to ease of use and style options.
The sewing machine can work with a variety of material including thick cloth and even leather. It has a powerful motor that can generate over 1100 SPM and comes with a pressure foot for smooth flow of the materials.
It offers 23 stitch styles. 12 of these are decorative styles and others are for buttonholes, basic sewing, and zipper sewing. It offers automatic needle threading, drop-in bobbin system and has a durable heavy frame.
Here's our full review of the Singer Heavy Duty 4423 sewing machine.
Brother HC1850
Brother HC-1850 is the perfect solution that can handle most types of sewing and quilting needs. It is ideal for beginners and moderate users but offers just enough features that expert users will also find it useful.
It comes with 130 stitch styles including special decorative designs, buttonholes, quilting functions, and garments sewing. If you make quilts professionally, then this machine will keep you covered.
The stitch functions are selected through a number indicator and the LCD screen shows you the sewing status. There is a font function that allows you to put personal insignia on designs. The machine has a length and width adjustment function as well.
The machine has an adjustable sewing speed that goes up to 850 SPM. Speed is controlled through a three-stage button. It offers an easy bobbin winding and automotive needle threading and can be operated by foot or hand. Great for sewing quilt!
Here's our full review of the Brother HC1850 sewing machine.
Juki TL-2000Qi Sewing Machine
This is a powerful sewing and quilting machine that makes it very easy to create wonderfully designed quilts. It is capable of generating 1,500 stitches per minute making it one of the fastest sewing machines for the job. It has a sturdy aluminum die-cast are and a bed that makes it quite stable.
The Juki TL-2000Qi quilting sewing machine is more suited for experts. It comes with over a foot long extendable table that is perfect for quilting. The machine has an automatic needle threader, powerful LED lights on the working area, automatic thread cutter, stitch length control. It is a professional grade machine that lies between home and industrial use.
Here's our full review of the Juki TL-2000Qi sewing machine.
Janome 2212 Sewing and Quilting Machine
Another high-quality contender in the best quilting machines category. This model will attract casual and new quilters. While it does not offer a lot of options like other machines, it does automate a lot of processes. This makes quilting fun and easy.
The Janome 2212 quilting sewing machine has the drop feeding feature making it ideal for free motion quilting.  It comes with 12 built-in stitches and includes a 4-step buttonhole. Selection of a stitching style is very easy with the dials on the side. You can also adjust the length and width of the stitch to make your job easier. It comes with a free arm
This machine also includes reverse sewing for better stitching, automatic threader and has an easy to load bobbin. It can generate speeds of up to 1000 SPM.
Here's our full review of the Janome 2212 sewing machine.
Brother CS6000i Feature-Rich Sewing Machine
The user-friendly Brother CS6000i is the best quilting sewing machine for newbies who are just starting out. The machine is not very expensive and the perfect option for people who want to get into quilting at home. The CS6000i has 60 built-in stitch patterns, including 7 different styles of 1-step buttonholes. It has 20 clothing, 20 decorative, 7 quilting styles, and 6 heirlooms.
The model includes a detachable table that is quite big and can be used to complete big sewing or quilting projects. The machine includes diagrams that can be referred to for threading. The stitching speed mechanism can be controlled through a dial. It includes an LED light for making it easier to sew in dim lighting. The motor can generate up to 850 SPM, has an automatic needle threading and an LCD display for real-time sewing status.
Here's our full review of the Brother CS6000i sewing machine.
Singer 7258 100-Stitch
Singer is a renowned brand in sewing machines. When you see a high-end model from them, you can be confident that it is built to impress.
This holds true for the 7258 100-stitch computerized sewing machine from the company. It offers 100 different styles of stitch patterns including 76 decorative stitches, length and width adjustment. The model includes a computerized programming function with a large LCD screen.
It includes an automatic bobbin and needle threader, automatic reverse function, auto tie-off for straight stitches, 6-second threading, twin needle capability, 13 needle positions, and center zigzag taper.
The machine can generate sewing speed of up to 750 SPM that is enough for most of the quilter. It has a durable and heavy frame to significantly reduce vibration.
Here's our full review of the Singer 7258 sewing machine.
Juki HZL-F600 Computerized
If you are planning to make quilts on a professional level at high-quality, you will need a sewing machine that makes your projects fast and easy. The HZL- F600 from Juki is made for industrial and commercial uses. It has a box feed design that allows faster and more efficient quilting. It can generate a speed of 900 SPM to complete the job quickly.
The F600 also offers more than 255 stitch styles including over a hundred decorative designs. It includes 4 fonts and also allows random stitching where two or more patterns are repeated simultaneously. You can even program patterns on the LCD screen that shows your current sewing statues for easy quilting and stitching.
One good feature of the machine is that it allows you to work on heavy or thick materials, including leather. This makes it suitable for quilting and embroidery design.
The machine includes auto needle threading, LED lights for the work area, buttonhole sensor, free motion sewing, reverse stitching, extendable worktable, foot pressure adjustment and much more.
Here's our full review of the Juki HZL-F600 sewing machine.
Singer Quantum Stylist 9960
The Quantum Stylist is probably one of the best machines for professionals in its price range. To start off, it offers 600 stitching styles, 13 one-step buttonholes, 5 alphanumeric fonts, mirror image stitching, and stitch elongation. It offers a programmable computer system with an electronic auto-pilot mode.
The maximum stitching speed on this model is 850 SPM. It is quite stable and does not vibrate during work. It includes auto threading, LCD display for stitch selection, LED lighting, extension table and hand or foot operation.
Here's our full review of the Singer Quantum Stylist 9960 sewing machine.
Decision Time: Which Quilting Sewing Machine is Right for You?
After seeing these 8 quilting sewing machines, any of them are good choices. If you're looking for the best quilting sewing machine overall, either of the Juki quilting sewing machines will be right for you. If instead, you're looking for a more budget-friendly option, any of the other machines listed will do a great job.