With so many irons available in the market, it can be hard to figure out which is the best iron for sewing. While their basic job is to remove wrinkles from clothes, there may be several variations in functions between different models. We've made it our duty to find the very best irons for sewing.
In a Hurry? Here are Our Top Choices
The 5 Best Irons for Sewing
Rowenta DW5080
Reliable Velocity 230IR
Oliso TG1600
Steamfast SF-717
Black & Decker D2030
We'll describe each of the top-rated irons that are perfect for sewing.
Rowenta DW5080 – One of the Best Irons for Sewing
This model has a very high rating and enthusiastic customer feedback which is why it is one of the best choices for you. The DW5080 highlights Rowenta's flair for designing the best irons with superb functionality.
The DW5080 makes use of a sleek design, ease of use and optimal steam distribution to provide reliable performance. Since it is so compact, it can easily fit into small spaces, and yet its surface is big enough for easy and fast pressing.
The iron houses a large water reservoir so that you won't have to fill up too often. It has been specially designed so that calcium deposits created by hard water do not accumulate.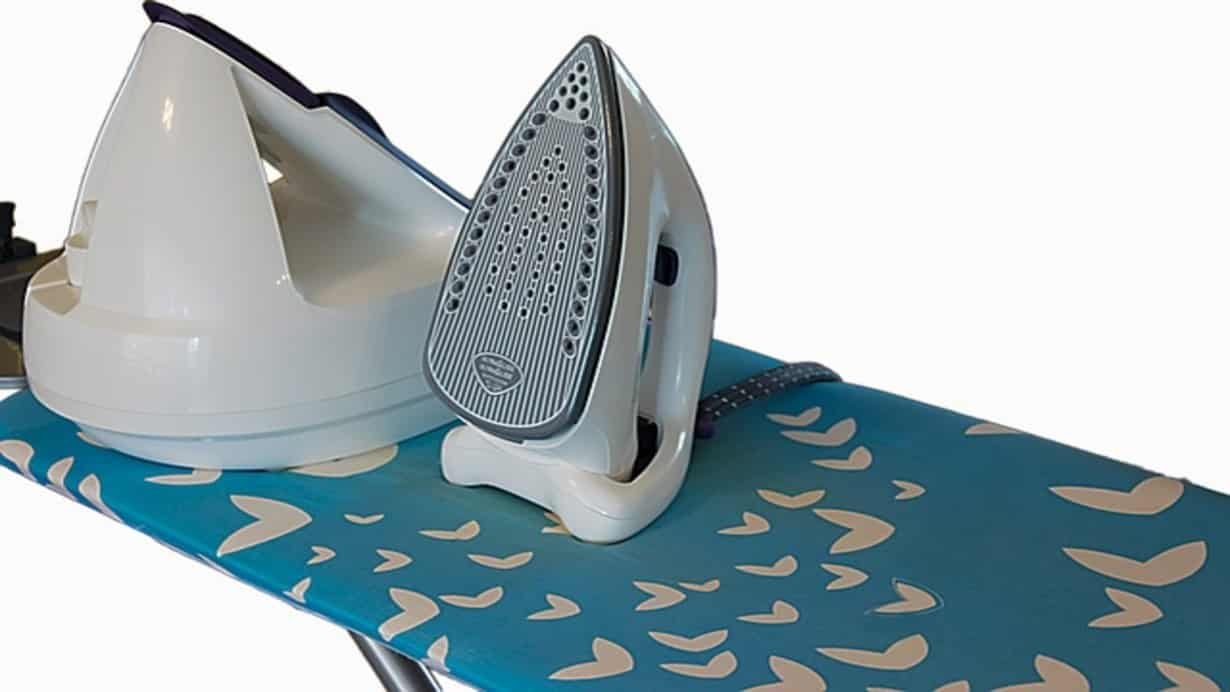 Consumers mention the smooth performance, ease of use and sturdy construction as the best features of this sewing iron. At 3.4 pounds, this iron is very lightweight and therefore the perfect option for people suffering arthritis and related conditions.
The iron generates 1700 watts of heat which is suitable for ironing all kinds of garments. The soleplate is made from high-grade stainless steel and is lined with 400 tiny holes that are evenly divided for perfect steam delivery. This model can produce up to 100 grams of steam per minute, allowing you to handle even the toughest fabrics with ease. You can vary steam output very conveniently according to your requirements.
The design of the machine is aesthetically appealing and highly ergonomic. The precision tip has been designed to give you great precision and control for perfect pressing.
You can adjust the heat output with the easy-to-use knob which serves as the thermostat.
The remaining water quantity can be quickly read by matching the water level with the graduation lines.
The auto-steam feature will optimize steam generation according to the heat output. You will not need to match and adjust the heat and steam output separately.
Oliso TG1600
The Oliso TG1600 is a high-end model that offers so many useful features that you will not want to use any other. According to delighted customers, one of the best features of the Oliso TG1600 is its ability to iron perfectly in the first pass thanks to its exclusive OnePass Technology. This will save you a lot of time and inconvenience since you won't have to iron repeatedly in the same spot for good results.
It also offers extra wide scortchguards for better safety. The model makes use of ITOUCH technology which raises the scortchguards with just one touch and releases them as soon as you stop ironing. This useful safety feature prevents tipping, scorching, and burning.
The ITOUCH technology allows you to place the iron in the horizontal position all the time with no fear of burning the surface on which the iron is resting. This feature is very important because users commonly leave the hot iron in a horizontal position which can damage the surface by scorching.
Another great safety feature is that the iron stops making steam after 30 minutes if it remains in standing position. If knocked over, the iron stops making steam after 30 seconds.
The Triple play Xtremesteam technology offers options for the right steam level according to the fabric type. The iron can generate steam according to three configurations: vertical burst, horizontal burst and continuous. It generates 1800 watts of heat so that the iron heats up rapidly and becomes ready for use within seconds of being switched on. The OnePass technology delivers deeply penetrating heat so that you can quickly finish up big piles of laundry in relatively little time.
The soleplate is made from premium quality stainless steel which is coated with high-grade extra-thick chromium. Due to superior surface finishing, the iron will glide very smoothly over all types of fabrics to give you comfort so that you will actually enjoy pressing your clothes. This feature also makes the iron very user-friendly even for beginners. The high-grade finish ensures that the iron will last for a long time period.
If you are interested in performance rather than low budget, then the Oliso TG1600 is a great option for you.
Black & Decker D2030
If you are looking for simplicity, reliability and economical pricing rather than lots of fancy features then the Black & Decker D2030 may just be the perfect solution. This model will work very well for both regular pressing and sewing. After conducting their own independent tests, Consumer Reports noted that the overall performance of this iron was very good.
There is great demand for this iron because although it lacks a number of high-tech features found in other expensive models, it delivers consistent performance and is very durable. These are the key attributes of all Black & Decker products.
The D2030 has a great automatic shut off safety feature. The iron will power off automatically if it is not used for a certain time period. If the iron is lying on its soleplate or its side, it will shut off after 30 seconds, and if it is left unattended in a vertical position, it will shut off after 8 minutes. This will minimize the chances of burning and lower electricity costs.
The digital LCD display offers great convenience and makes the iron very easy to use.
You can run the iron smoothly over your garments with minimal effort thanks to the heavy-duty soleplate which is made from high-quality stainless steel. Since the soleplate is so smooth and highly efficient, you will be able to press difficult fabrics correctly in one go. This will save a lot of your precious time. The smooth movement also means that you will have to endure minimum strain.
The grip handle has been ergonomically designed so that users can experience greater comfort while using the iron. This will be useful for those suffering joint pain and other related conditions.
You can control the steam output with the help of intuitive controls to instantly wipe out creases on all types of fabrics. The digital display can also be customized according to what suits you best, and it will help you in multiple ways. For instance, you can automatically adjust steam generation by just selecting the fabric type on the LCD screen. When the iron is hot enough for pressing, the LCD will display "READY". The iron will heat up quickly to the right temperature after you switch on the power so that it is ready for use within just a few seconds.
You also have the option of controlling steam and heat settings separately according to your own personal preferences. Rather than just using preset limited values you can try out numerous configurations to choose the one that works best for you.
Steamfast SF-717
This dainty model is an excellent option for traveling and sewing classes since it is very light, compact, nimble and portable. In spite of its diminutive size, it generates a respectable amount of heat and steam. The small size and compact dimensions will make this model a very convenient and reliable traveling companion that will fulfill all of your ironing needs. These features also make the iron ideal for carrying it to your sewing classes. This model is one of the smallest steam irons you will ever find.
The model has a dual voltage feature that allows you to adjust your iron to the local power supply. With such flexibility, you can now safely use this iron anywhere in the world even at 220 volts. This key functionality is missing even in most high-end models. Hence you can take this iron with confidence outside of the US.
Even a travel bag is provided so that you can carry this iron with you safely during your travels. You will no longer have to worry about the iron getting damaged.
The 1.4 oz. water reservoir will heat up in just 15 seconds to begin generating steam. You can also vary steam output through the one-touch interface for steam control.
To accommodate all types of fabrics, the iron also offers three levels for temperature settings.
The convenient grip is designed for the anti-slip capability for greater safety and better handling.
An extra long 7.5-foot power cord is also provided so that you can iron conveniently with a high degree of freedom.
The only con of this model is that it has a mild power output of 420 watts which is quite low compared to other models. However, you should also take into account the fact that the heat output has been scaled according to the size of the soleplate. Since the soleplate is so small, the heat output will likewise have to be proportionately small to avoid scorching fabrics.
The model is backed by a two-year warranty and reliable customer support.
If you are always on the go, then you should definitely think about purchasing the Steamfast SF-717.
Reliable Velocity 230IR
The Reliable Velocity 230IR provides the full range of features and consistent performance that you can expect from high-end models.
It employs a patented design that uses dual heating elements to sharply raise the temperature of the water before it even reaches the hot soleplate. This ensures faster steam generation and a continuous supply of hot vapor that will instantly erase even the most stubborn creases. With this technology, there will be an uninterrupted stream of vapor even at lower temperatures. Hence this iron will handle delicate fabrics like wool quite safely. It will reliably deliver vapor without dripping hot water.
Refilling the water container is easy and hassle-free. The cap can be quickly taken off to reveal the large-sized wide-angled inlet which helps to prevent spilling of water. The generously sized tank has a capacity of over 1.2 cups. In spite of that, the iron is not large and clumsy; in fact, it weighs only 3.7 pounds which is remarkable for a heavy-duty iron. The iron has been designed for evenly distributed weight to improve your handling.
The well-contoured handle contains an embedded sensor that can sense your hand to turn the iron off when it has been left unattended.
The high-grade soleplate is fabricated from top quality anodized aluminum. The superior quality of the surface finish and the lightness of aluminum allows the iron to glide freely over your apparel to bring back the joy of pressing clothes. It will not stick to your clothes nor will it ruin fragile fabrics. Since the material used is highly resistant to scratches and corrosion, meaning that your iron will last long well into the future. You can confidently expect seamless performance from this enduring iron for all of your sewing and regular ironing needs.
The swivel cord is designed to revolve through a complete 360-degree rotation to offer high flexibility and improved maneuverability.
The heavy duty iron is designed for continuous and long operations just like irons built for professional use. It also has an auto shut down feature which will switch off the iron after 8 minutes of idle time. This feature can be easily be bypassed so that you can use it for longer sessions, for instance when you are ironing large quilts and curtains.
Decision Time: Which Sewing Iron is Best for You?
Since you're now aware of all the great features of the best irons for sewing, you can make the best choice depending on your needs and budget. Any of the above irons for sewing will be a great tool for you.